Protective Glass
COVID-19 PROTECTIVE GLASS PARTITIONS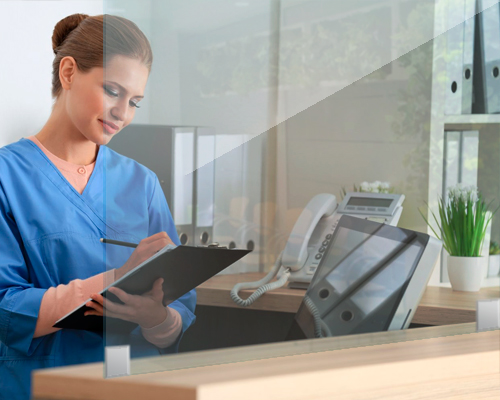 Tempered glass partitions offer a clean look, while promoting physical distance and protecting customers and workers alike from the spread of viruses and germs. Similar to sneeze guards, glass partitions provide an excellent solution to create safe barriers on existing desks, fixtures and seating plans and its clear aesthetics blend in with any furnishings. Glass is easy to clean and sanitize making it a more hygienic, less expensive, natural, sustainable and a more permanent alternative to plexiglass acrylic types of dividers. Glass is also far more resistant to scratches than acrylic resulting in minimal long-term replacements.
Create a "personal safe space" with glass partitions in these uncertain times.
Glass is the answer!
Contact us for a free quotation or if you have any questions or concerns. We're here to help!

Call us any time between 8:00am - 4:00pm : 905-738-6565
or fill out our CONTACT FORM.