CUSTOM MIRRORS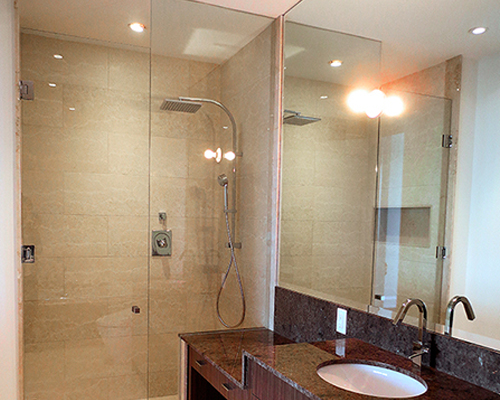 Discover the sophisticated and unique look of custom mirrors. At Verrage Glass and Mirror Inc., we manufacture various types of custom mirror glass products, including vanities, panels, backsplashes and walls used in homes and businesses for an added touch of sophistication. We supply an array of styles and offer cutting services in-house to meet all your specific needs. Contact us today to learn more about what we can do for you.
Our mirror products
When designing a custom mirror for your home or business, you can choose from any of these mirror products as a starting point:
Clear mirror. Clear mirrors can be used in a variety of applications. They reflect light, making small spaces feel larger and more open. Regardless of your needs, a clear mirror can add a sophisticated touch to any room.
Optiwhite™ mirror. Optiwhite™ is a new and unique option for all your mirror applications. It's an extra-clear, low-iron float glass that's practically colourless. It maximizes light transmission and adds brightness and clarity to any interior.
Acid etch mirror. Acid etch, also referred to as frosted, matte, translucent or opaque, mirrors are ideal for various interior features, such as partitions and dividers, tabletops and shower enclosures.
Optiwhite™ acid etch mirror. Optiwhite™ glass can also be acid etched for an attractive frosted appearance, adding an uncommon brightness and clarity to any interior.
Tinted mirror. Tinted mirrors come in several tints that vary in intensity. Blue, green, grey and bronze are some of the most popular colour options. Tinted mirrors offer a modern finish to enhance the ambiance of your surroundings.
Antique mirror. Antique mirrors are designed for both decorative and architectural applications. They have a distressed look that can serve as an accent or feature element. Antique mirrors come in a range of colour options and can be made to suit your needs.
Once you've chosen the type of mirror glass you want to use, our team can help you come up with the perfect cut shape and size for your space. We can custom cut and bevel your mirror to fit perfectly in any space required.
---
Custom bathroom mirrors
Mirrors are a great way to amplify light and open up the appearance of a bathroom. We can custom cut and bevel your mirror to fit perfectly in any space required. Call us today for a free quote or information about our installation services.
Custom mirror products in Woodbridge, Richmond Hill, Vaughan, Aurora, and Markham
Verrage Glass and Mirror Inc. can create a custom mirror to make your space stand out. Our team can help you design the perfect mirror to bring your space to life, whether you want to amplify light and open the appearance of a bathroom or use antique mirror glass as a focal point in your dining room. We create custom mirrors for residential clients and commercial business owners. Contact us today for a quote or more information about our services.
*NEW - Verrage now offers Digital Printing directly onto glass! Add a personal touch to your glass shower doors. Learn More
---
GALLERY